I had a mental breakdown, I guess, because I came home last week and there was a bread machine waiting for me on my doorstep. Amazon tells me I ordered it, so if wasn't my clone, it was insanity.
The recipes in the bread machine book were predictably terrible, so I decided if this thing was going to take up shelf space, I might as well learn how to use it.  Erin and I hit up Barnes and Noble, pulled every single bread machine recipe book off the shelf, and used the most scientific method to make our choice: We opened up the first one, then we bought it.  We got lucky, because every single thing we've made out of it has been fantastic.  You should go buy it immediately if you have a bread machine.  Because–
–hey, wait? $12.47? I paid twenty-one $%#&@&# dollars for that book at B&N! What kind of a moron am I?
Anyway, the main thing mental-breakdown Eric wanted from a bread machine was to make some good, Italian bread. Because I'm a good Italian boy and I'm ethnocentric about my carbohydrates. I had to to the store not once (for semolina flour) but twice (for instant potato flakes) to get what I needed, but I finally got to try it.
Erin might not have any bread left to try by the time she gets home. I'm going all anti-paleo on this sucker.
Pane Italiano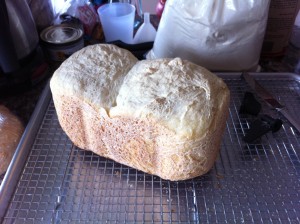 Ingredients
Liquid:
Dry:
3 1/4 cups bread flour
7/8 cup semolina flour
1 1/2 tablespoons instant potato flakes
1 1/2 tablespoons sugar
1 tablespoon gluten
2 teaspoons salt
Yeast:
2 1/4 teaspoons SAF yeast
or 2 1/4 teaspoons bread machine yeast
Instructions
Place all the ingredients in the pan according to the order in the manufacturer's instructions. Set crust on medium or dark and program for the Basic or French Bread cycle; press Start. (This recipe may be made on the French Bread cycle using the Delay Timer.) If using the Basic cycle, after Knead 2, press Stop, reset the machine and start the cycle again, allowing the dough to be kneaded an extra time.  The dough ball will be moist.
When the baking cycle ends, immediately remove the bread from the pan and place it on the rack. Let cool to room temperature before slicing.