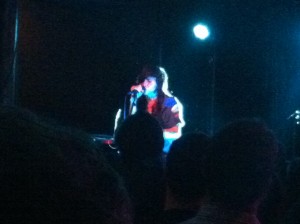 Here's how madness works.
A few months ago, I noticed an artist named Lights on rdio.com – a recommendation, probably due to some embarrassing pop I'd listened to at some point – and was desperate enough for something new to give it a try. I didn't think much of it on the first listen. Or, at least, that's what my conscious brain was thinking. Something in my subconscious clicked, I guess, because by the end of the day I'd listened to the album three times.  Then I bought it. And listened to it a bunch more times.  Eventually, my conscious mind got the hint and decided I was enjoying it.
The album, Siberia, was relatively new, and she'd just started a tour in Canada. I told Erin, "If she comes to Pittsburgh, we are so going to see her." And, hallelujah, what do you know? She announced her U.S. tour dates, and Pittsburgh was on it. She was coming to Pittsburgh…
…two days after I flew out to California.  Ready for the madness part?
My brain, convinced it was going to see Lights in concert if she came to Pittsburgh, decided that the conditions necessary to see her had been met and that I would thusly be going to see her no matter that I would be thousands of miles away when she was here. Erin, game as always to play along with my crazy time, looked over the rest of her tour. She'd be in D.C. right at the end of our trip, but that would mean cutting Wine Time short. Ok, no good. How about in March, when she was in Tulsa or Nashville? Oof, have you seen those plane fares? No, absolutely…hey, wait! Boston?
And that's how I built a weekend vacation around seeing a Canadian musician in Pawtucket, Rhode Island. Speaking of which: Boy is Pawtucket an armpit. At least, everything except the venue itself and the cool artist's village around it. Ok, ok, all I'm sure about is that all the detoured, cruddy streets we got lost on were armpit-ish. The Met, though? Really cool venue. Very nice.
Oh. You're probably wondering if the concert any good, right? You aren't? Why not? What am I doing wrong, here? Am I that bad at building tension? You guys are a tough crowd.
Lights was awesome. Absolutely awesome. One of the many great things about seeing an artist perform live is to see them between the songs. How they work the crowd  (if they work it; sometimes they barely talk) and how their onstage persona meshes with the voice you've been hearing through your headphones.  Lights – her name is Valerie Anne Poxleitner, hence the stage name – was funny, genuine and really into the night with her fans. She was also totally in charge of the stage; a few times, she was half-conducting the other musicians. She responded to tweets from fans, including taking a request from a couple who'd danced at their wedding to one of her songs.
Siberia is an interesting album, fusing pop with a dirtier, dubstepier spine. It's not the kind of album where you hear one song and fall in love, but one where the effect of it builds on you. It's not a transcendant album, or a really important album, but it's good, and it gets lodged in your aural centers in a way that makes listening to it feel akin to satisfying a craving for chocolate peanut butter ice cream (or whatever it is you crave when you want something sweet and terrible for you).  Live with her stage band, the beats were heavier and dirtier and the energy of it just kept pressing you forward. Lights' voice, which feels a bit produced on the album, doesn't need help. At all. The girl can wail. Her producers should back off on the [technical thing sound people do to voices] and let her sing.
If it weren't for the obnoxious college guys (and is there anything more obnoxious than the college male?) who showed up in the hopes that Lights would teleport them backstage for sexy time, it would have been a nearly perfect show. Did I mention that Pawtucket is an armpit? So are a lot of its concertgoers. Neanderthal armpits.
That's irrelevant. I flew to Boston for a concert, and the concert was worth it. Check out Siberia. It's a cool album. If you like it, and she's coming through your town, consider checking her out.