I did things in the wrong order. That much I'll admit. I chose to write a short story about a wine grower before planning a week-long trip out to wine country. I finished the story before I left for the trip, and returned from the trip two weeks before publication; exactly, on-the-dot too late to bring any insights back from my trip. When Rachel, the editor of Hot Mess (the anthology in which this story will appear), allowed me to change one of the varietals, it was a late in the game mercy I did not deserve.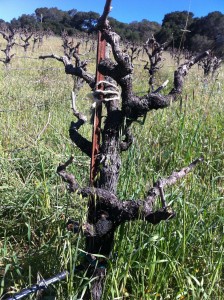 I don't always remember the path that led me into a story. I remember deciding that a vineyard would be my setting almost as soon as Rachel asked me to write a story for her anthology focused on climate change. Climate change is a disaster in small increments, and viticulture is as sensitive to tiny fluctuations as an industry can be. If I were going to tell a story about the small things climate change is stealing from us, I was going to find it in my love of wine. How I found my way to century-old Zinfandel vines and a woman with a hacksaw, though, I don't recall. Some stories become what they are through inexorable logic and inertia. "She Says Goodbye Tomorrow" grew through desperate thrashing and sudden waves of intuition and inspiration. It was something about the allure of those old vines, the romance of wine grown from plants older than any living human, that exerted the vital gravity needed to make the story come together.
No matter how much research you've done, there's a gulf you can never close between you and the people who do something for a living. The innate understanding of the way a thing lives and breathes can't be reproduced through reading alone. You just hope that you read the right things, understood the essence and core, and were canny enough to write around the spots where you were in over your head. So it was with some trepidation that I headed into California wine country, having written a short story about California wine country that could suddenly start to look very shallow and silly if I'd missed something vital.
I got something I wasn't expecting.
There are stories I won't tell in detail. How the first vineyard at which I stopped grew nearly every grape grown in my own, fictional vineyard. The first look at gnarled, old vines standing in rows yards away from their thin, young cousins. The odd, wonderful feeling of being told a small winery owner's story and hearing things you'd just written and hoped would be at least a little bit true. Instead, I want to talk about those ancient Zinfandel vines, and the wine they produce.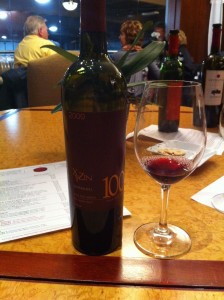 There was a lot of accidental coincidence on parade on my first day in wine country. I'd been sick for days, and when I woke to find the illness had not departed, I knew it was time to see a doctor. Unfortunately, the only urgent care facility was nearly an hour away. We'd been on the road for two days, and adding in a 2 hour round trip just for my sinuses didn't sound like vacation. I stared at the map until things clicked. The urgent care center was halfway between us and Francis Ford Coppola's winery, so we'd simply rearrange our schedule and hit Geyserville first. The plan had been to visit the smaller, family run wineries first, but illness is a crowbar to our plans, isn't it? We drove north, saw a doctor, ran through a Costco to pick up my antibiotics, and continued north to Coppola Winery.
After the tasting, we asked for a recommendation of what else we should see. We hadn't bothered to plan the trip to Geyserville since it had been so last minute, but we wanted to make the most of it. We were told to go to Silver Oak to try their Cabernets, and despite Erin's dislike of heavy reds, we took the advice and continued north. On the way there, we passed a familiar winery: Geyser Peak. I knew them not only because I'd had their wines, but because my late aunt had a cousin who was their cellar master. Erin and I decided that we'd slip Geyser Peak into the trip on our way back from Silver Oak.
Geyser Peak's tasting room was empty. There was some sort of private tasting going on in the room upstairs and, as we were vacationing during the slow season, there was only one employee working both rooms. She called us up to the private tasting room and let us sit in while she ran us through nearly every bottle they had to taste. Halfway through the tasting, she brought out the XYZin.
Geyser Peak has a line of Zinfandel wines with a twist. Each bottle in the line contains only grapes from vines of a specific age. There's a bottle of grapes from at least 10 year-old vines, one from 50 year-olds, and finally a bottle containing only wine from 100 year-old Zinfandel vines. Wine from the old vines that had drawn me into "She Says Goodbye Tomorrow", there, in a glass, for me. We were given two glasses of XYZin; one from the 10 year-old vines, and one from the 100 year-old vines, to taste side by side.
I got to taste new- and old-vine wines, together. Just like that. Because I got sick, went to Geyserville with my antibiotics, and followed a recommendation at the perfect time to be drawn into a special tasting.
They don't let the vines grow that long just because they can. Grape vines change as they age, and their fruit changes with them. The older a vine gets, the less it produces. There are less berries on the century old vine than their are on the ten year-old, and the berries it does produce are smaller. The fruit on the elder vines are filled with juice more concentrated and intense, though. Those old vines produce only about a ton of fruit per acre, but the fruit is changed because of it. Think about that for a second: The vines have survived over a century of changing weather, of prohibition and repeal, of the economic pressures of skyrocketing land values putting every acre's production at a premium. All of that led to the glass of wine in front of me.
What surprised me – what really, truly hit me – was how obvious the difference in taste was between the ten and hundred year old vines. The fruit was grown the same year and bottled by the same winery. They were both 2009 Zinfandels, yet the wines were distinct. I wouldn't say, based on such a small taste, that one was better. It was that the vines that had outlived every human alive at their planting produced a wine distinct from its younger brothers. That the age of the vines wasn't just some dry fact, reported to tourists as a curiosity. Nothing but a century or more of time could produce this wine. Nothing but a hundred years to thrive. The 100 year vines are a piece of our past, and if they were ripped from the ground today there'd be no new vine that could replace what they give us.
"She Says Goodbye Tomorrow" puts a lot of weight on those century old Zinfandel vines. Being allowed to taste wine from them, experience the distinct flavors of a something produced through a hundred years of cultivation, made the worth of them more personal than I expected. When Rachel asked me what climate change meant to me, I told her that it was that when things change they rarely, if ever, change back. Those vines could die in a day and be gone forever, but would take a century to replace. If they withered tomorrow, I'd never survive to see their like again. That's at the very heart of "She Says Goodbye Tomorrow", and I was extremely fortunate to have been given a chance to understand exactly what their loss would mean.
Hot Mess, an anthology featuring short stories by Rachel Lynn Brody, Eric Sipple, Sare Liz Gordy, Miranda Doerfler and RJ Astruc, is available on Kindle and through Smashwords. Actually, it's available everywhere else, too.