Here's the boring-to-everyone-else part of my job: The fancy website I build is tied into a big ol' ticketing system that our box offices, development folks (in non-profit speak, development == fundraising) and marketeers use for…well, basically everything. What's cool about the ticketing system is that it's built and run entirely by a non-profit organization. We aren't customers. We're part of the Community.
Once a year, the Community gathers. Every year we choose a different city. Last year we were in Orlando. The year before that, Washington D.C. This year we descend on San Diego.
I'll be hopping on a plane on Friday night and will be in sunny, terrifying Southern California for the week. The Conference is an awesome chance to meet other people from many, many arts organizations, and to learn what amazing things they're up to. I've never been at a business conference with a better community, and even if I was flying to Tulsa, I'd be excited to go.
Unfortunately, at the end of the week, there's a big party, and big parties result in photos like this: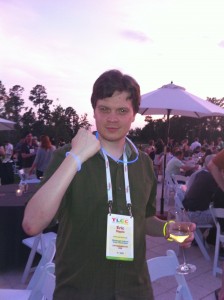 San Diego: You have been warned.