Long distances races don't begin like a clean Olympic sprint. There are no defined running lanes. No established order. The runners cross the starting line in a horde, lurching forward like an army charging into battle. Unless you're at the front of the line, you don't start at your best speed. You walk, maybe jog, and wait for openings between weaving, stumbling runners.
I started the 5k in the middle of the pack. It was my first race since my knee injury. I didn't want to push myself too hard, only to be passed over and over again as I limped through the rest of the race. I waited for openings, slipped between runners where I could, and kept waiting for my kneecap to pitch a fit. All I cared about was finishing without having to slow to a walk. If I could run the whole 3.1 miles, if I could keep my speed without the pain returning, nothing else mattered. What I didn't expect was to end up in the most competitive race of my life.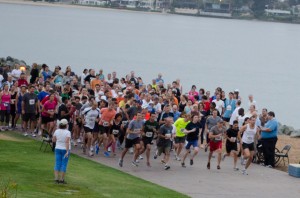 The horde sticks together for the first third of a 5k. People love hosting races along narrow waterfront walkways. When that two foot gap opens between a clumsy competitor and the ocean, you think twice before going for it. Runners unused to longer distances put the pedal to the metal right out of the gate, matching other runners' speed whether or not they can keep it up. Just past the first mile is when the crowd finally begins to thin. Fast racers pull ahead while the overreachers hit the wall and slow to catch their breath. For a mediocre runner like me, that's when the race really begins.
The crowd stretched out like a jagged line across the course. Little groups of two or three runners bunched up, using each other to set their speed. My strategy has always been to catch up to one of those groups, hang with them for a minute, then swing around them when and if I decided I could beat them. My first two races went like that the whole way. Find a group, match a group, pass a group; until, in the last mile, the runners spread out so far that the only people I saw were the ones going full bore past me on their final sprint.
This race was different. This race was when I met my Nemesis.
I reached her group halfway through the course. As always, I found my spot behind them and hung with them long enough to build up the will to push past. I noticed something. Something unexpected. The woman in the group glanced over her shoulder. A flick of eye movement that only people who do not intend to be passed give. She knew I was coming. I put on some speed and passed on her left before slowing to my normal pace about ten feet beyond her.
I did the eye-flick myself, first over my right shoulder. All clear. Then over my left. Not all clear. She was there, pacing herself in exactly the spot I'd found behind her. She wasn't letting me go. She wanted to race. A minute later she was ahead of me again. A minute after that, I'd passed her. We traded position over and over for most of a mile. I'd never had this before. I'd never had competition. Either someone was faster than me, or I was faster than them. Her, though? She was my equal. She was my Nemesis.
It was time to get real. I remembered Olympic commentators talking about race strategy. Rather than pass, I kept just behind her and pushed the pace bit by bit, forcing her to either give in or speed up to keep me behind. Every once and a while I'd break ahead of her, then let her pass again when she sped up. Either my conditioning was better, and forcing her to keep at my speed would tire her out, or she was the stronger runner and I'd never keep ahead of her anyway.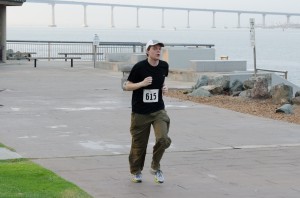 We were running along the San Diego Embarcadero, a stretch of waterfront sidewalks connecting long strips of public parkland. The final leg of the race led through one of those parks, in a slow, curving loop around its circumference. As we turned into the park, my Nemesis made her move. She came up from behind me with a speed I couldn't match. When she made it ahead of me she didn't slow. She rounded a corner and kept going. I didn't have a run like that in me. I was defeated. My Nemesis had won.
Or so I thought. Races are a strange thing. You never know what you have in you until the moment arrives and you reach for speed and strength. Sometimes you find it and it pushes you so hard and so fast you wonder where it had been the rest of the race. Other times, there's nothing but an empty well; you just fade until you stumble across the finish line.
I don't know if she pushed too hard and hit a wall, or if the speed I found was more than her own, but by the next curve I was beside her again. This time, it was me who kept going. I curved left, then right, not bothering to look back. If she was there, keeping pace, there was nothing I could do. It wasn't until the last turn that I chanced a final look over my shoulder.
Nothing. I'd broken ahead. I'd made my move, and my move was just enough. I crossed the finish line alone. Half the pack had finished ahead of me, but my Nemesis finished behind. I hadn't won a thing. It didn't matter.
For the first time in my life, I hadn't run. I'd raced.