I love the visual arts. I love museums, and galleries, and comic books, and neighborhood wall murals, and cathedrals full of stained glass and mosaics. I love sketches and carved marble. I love vases and cave paintings.
I love book covers.
Before I decided to self publish, I hadn't put much thought into what a cover for Broken Magic might look like. If I'd found a publisher, the cover would have been out of my hands. Maybe it would have been awesome, maybe it would have been a disaster. It wouldn't have been mine, though, so I saved the freakout for when I had a book that was going to get a cover.
That freakout hit as soon as the cover became my problem. I can write a book. I can revise it, and blog about it, and I can even be coached through marketing it. I cannot, however, put together a cover that looks better than clip art slathered in Helvetica. I'm a terrible designer and a worse artist. My straight lines curve, and my curved lines jag like an EKG chart. I can't tell you what colors complement each other. No, not even with a color wheel that tells me exactly what colors complement each other.
Yet, like I said: I love book covers, and Broken Magic's cover was now my responsibility. I couldn't complain that my publisher had lost its mind and cheaped out. If I hated the cover, it would be because I'd lost my mind or because I'd cheaped out. Whether or not people should judge a book by its cover, they do. I decided I wasn't going to bother self-publishing Broken Magic unless I had a cover I'd be proud to have on my shelf amongst the books I loved. If it was going to look chintzy or slapped together or rushed, I wasn't going to bother.
Finding artists online is easy. Finding the right artist is Excedrin headache #39. (Wait, no, that was the shoe store one. Maybe it's #38). I hunted through DeviantArt, trolled Amazon for other self-published books, and begged all of Twitter and Facebook for help. It was hardest when I found talented artists who weren't what I was looking for; when I tried to talk myself into settling for something good but wrong.  If I hadn't given into that temptation before and spent years regretting it, I might not have lasted the months it took for perseverance to beget luck.
As it has so many times, Twitter saved me. A lead from my friend @thespacebase led me to Derrick Dent.
Derrick is the artist I'd nearly given up hope of finding. He's professional and insightful; open about his process, and patient with my vague, meandering and probably conflicting feedback. Most importantly, his work is stunningly beautiful.
Maybe it's best if I stop there and let you see his work for yourself. Without further ado, I give you the cover for Broken Magic, by Derrick Dent.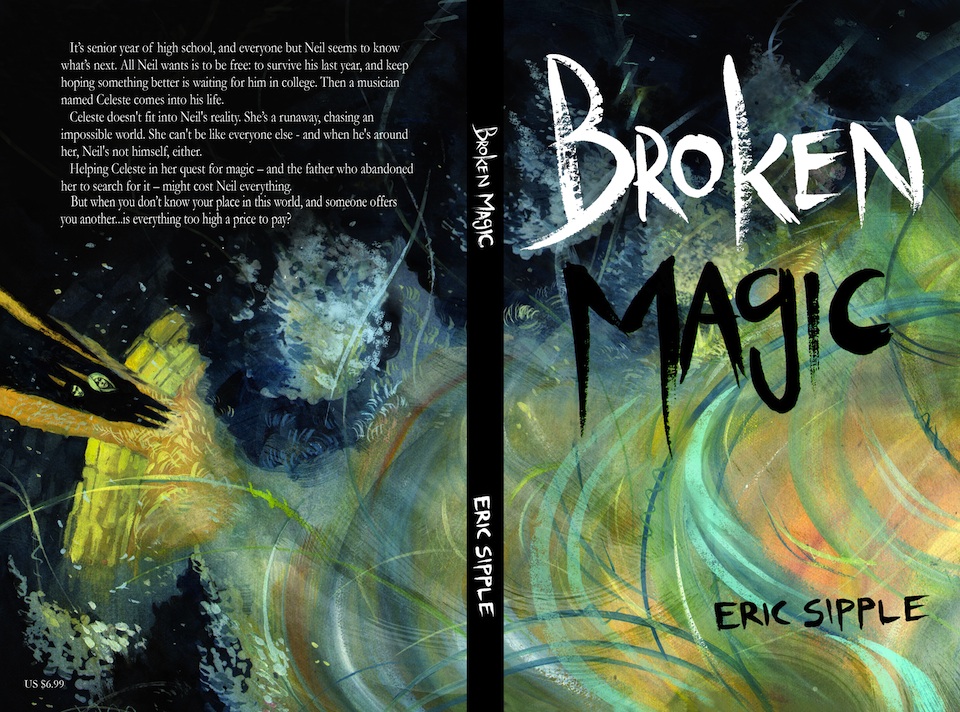 Broken Magic will be available for Kindle and in print in September 2012. Sign up for updates and other exclusive content:

Check out my other Adventures in Self-Publishing: