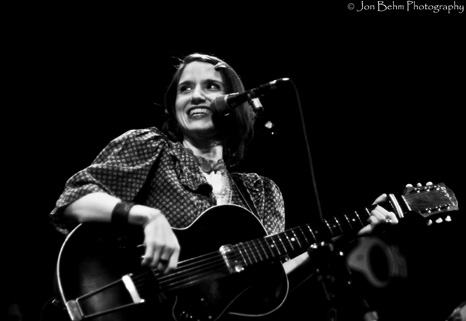 I'd forgotten how the idea for Broken Magic came to me until last week, when I went hunting for music to write by and stumbled across an album I hadn't listen to in a while. I don't usually have Big Moments of Inspiration. Most of what I write comes to me in pieces, so slowly that by the time I realize I a story I want to tell, I've had it in my head for months. Broken Magic was different.
I was in my car, on my way to a friend's, listening to NPR (World Cafe, I think), and an artist I'd never heard of was on. Jolie Holland. She was playing this:
They interviewed her after the song, and she talked about how she came up with her songs, how they were all pulled from stories of her own life. I don't know what she said after that, because I'd stopped listening. Celeste – the small blonde thing Neil sees playing guitar in a coffee shop – and the story about how they met and what happened after, slammed together in my head. Not everything, of course. I never know the details until I really get to work,  but I could feel it, the shape of the novel, what it was about, who it was about. I don't chase moments of inspiration, but it was a hell of a rush to have one.
What started with twenty minutes of NPR has led me here, three days from the release of my first novel, announcing the winners of three free copies of Broken Magic.
"Three?" you ask. "Weren't you only giving away one copy?"
That was the plan, but response was so awesome that I decided to keep adding free copies to the pile so long as people were signing up. I'm nice like that. Fine, I'm a shameless self-promoter desperate for continued attention like that. Don't get all picky with me.
How did I pick the winners? Since I'm a giant nerd, I just had to make the selection so complicated that it required the magic of Computer Science to pull off. First, I randomly assigned everyone a page number. (People who helped spread the word were given two page numbers). Then, I used a random word generator to grab a word. Finally, I searched Broken Magic for that word. If the word appeared in the novel, the owner of whatever page the word appeared on won a copy! Thanks to OnOneCondition for coming up with this awesome idea.
 Now, the winners! Congratulations to:
Flood G.
Valerie
And the Talawanda High Librarian
The winners have been contacted privately and I'll be sending them their signed copies this week. Thank you to everyone who participated, and don't forget: all of my subscribers will still be receiving 20% off the print copy of Broken Magic. If you're not a subscriber and are thinking of buying a copy, it's not too late. Sign up below!
We're finally here. Broken Magic will be released this Thursday, September 27th, for Kindle and in print. Thank you to everyone who's lent their support, who's shown interest, and who hasn't judged me for my wild-eyed stress over the past month. You're all wonderful.