There are moments that predict everything important about your life. A mix of the good and the bad and the weird and the coincidental that'll repeat in various quantities and ratios until you keel over dead and people go back through your blog to find funny anecdotes to repeat at your wake. A prototype of who you'll become.
It started with the PSATs. Not with the actual SATs, but with the practice ones that guidance counselors tell you to take so that when you get to the real thing you'll be burnt out. I was so concerned about the meaningless waste of time and money that I went to a rock festival the night before, and stumbled into the test center on five hours of sleep and zero preparation.
That's why I was only a little insulted when the head of the gifted program called the College Board to challenge my completely implausible perfect verbal score. Hell, I expected her to find out it was a mistake. My English grades were sliding into the danger zone, and if I was going to fly my nerd flag, I figured it'd be in math. The score checked out, but it didn't matter. The PSAT was a pointless practice test. Even my parents couldn't pretend was important.
And that's why, when I got called to the principal's office to be told that my PSAT score qualified me (along with two other students) as a semifinalist for an academic scholarship competition, I decided the universe was having a bit of fun. Sure, I was in the smart kid classes, but I was the kid in the smart classes that did exactly the amount of work necessary to stay in those classes. Not a shred more. I barely did homework, I forced myself through assigned readings at lunch, and I was happy with whatever grade kept my parents from looking at me cross-eyed. I was a model Just Get By student. I was not national competition material.
And that's why, when I was told I needed to write an essay on something that had profoundly influenced my life, I didn't bother writing it until the period before it was due. I didn't care about winning, only avoiding disqualification and subsequent cross-eyed parental anger. Surviving that would be way more work than pounding out an essay on how music influenced my life. I did the bare minimum and freed myself of obligation.
So, of course, a couple of months later, I ended up back in the principal's office. I'd made it through. I was a National Merit Scholar. This was, apparently, a Big Deal to my principal, who proudly informed me our school hadn't produced one in years. I thought: Fine. I'm smartish. A nonsense academic award was going to happen sooner or later. Now let me out of this office so I can go back to grinding out middling grades. I kept thinking that – that I was having a moment I'd forget by freshman year of college – until I stepped out of the principal's office and came face to face with my English teacher/nemesis, C.
She grimaced. And she frowned.
And she forced out the word, "Congratulations."
Waaaait a second, I thought.  I've stumbled into revenge. C. – who'd done everything in her power to burn me, who a year earlier had dragged me to the principal to humiliate me – had to congratulate me outside that same office. The head of the gifted program – who hadn't known I existed until the PSATs – was so embarrassed that someone outside her silly club had won, she inducted me immediately. Overachieving jerks – you know, the mean-yet-smart popular kids that high school movies pretend don't exist – were going off in class, within earshot of me, about how I didn't deserve it. And they were right! I didn't deserve it! I took a test half-asleep, and wrote my essay in 42 minutes. This was absurd. This was insanity. This was fun.
It stopped being fun all at once. The principal asked for a copy of my senior portrait. They wanted to stick it on a plaque and hang it up in the school lobby. There was no stopping them. The plaque was going up, and it was going up with my picture on it.
It was still there 16 years later, waiting, when a friend returned to our alma mater. She wasn't the first to see it. Horrifyingly, she won't be the last. She was the first to pull out her cell phone, snap a picture, and send it to me. To share the horror of being back in that building. I'd almost forgotten how humiliating it is when you get what you thought you wanted: to be noticed. If you have my luck, you're only going to get noticed when you have hair like this…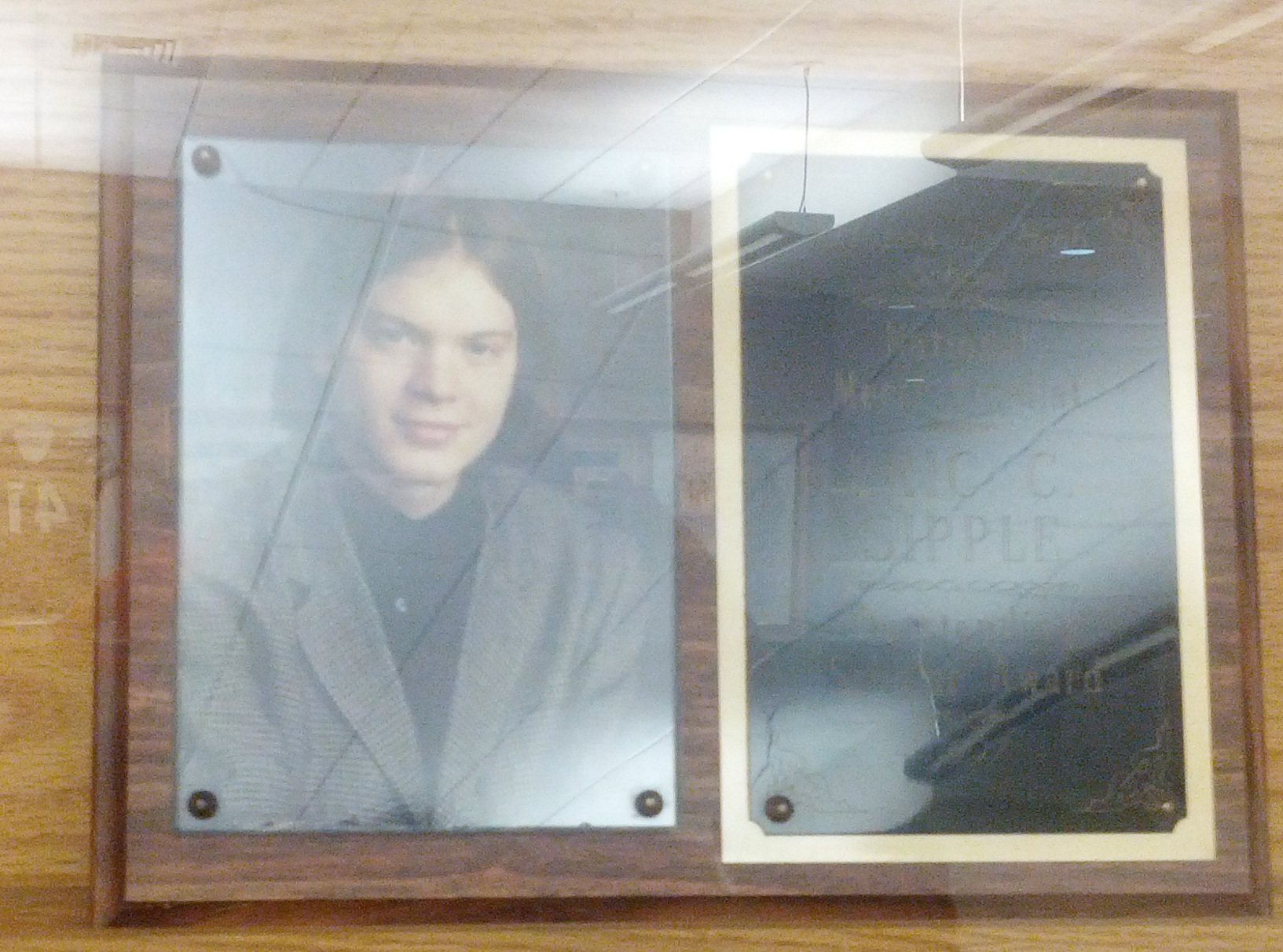 …and that hair is going to keep get noticed. For the rest of your life.
Procrastination, annoying the crap out of people, and an ignored sign that writing, not science, might be where I belong? All of it followed by years of humiliation? Yep, that's my life in a nutshell.
Thanks, PSATs.