I'm here to tease by next novel, Mimesis, but it might take me a second. My brain's a bit of a mess. It's not thinking in chapters or posts or even paragraphs right now. It's stuck moving around words and punctuation, kicking out adverbs and slaughtering gerunds. My brain is obsessed with fragmentary details and getting it to write more than a new dependent clause is harder than I thought.
As you've probably guessed, I'm in the middle of the 2nd draft. I can even prove it! See that little green meter on the sidebar? I'm keeping track of my progress right here, on the blog, because…well, let's face it: some days I'd rather chew my ankle off than slog through a 2nd draft. I'll take any motivation I can get.
Now that I've actually read what I wrote from cover to cover, marked it up with a red pen and ripped into the parts that need changed, I have just enough perspective to talk about it.
But only a little. Because otherwise spoilers.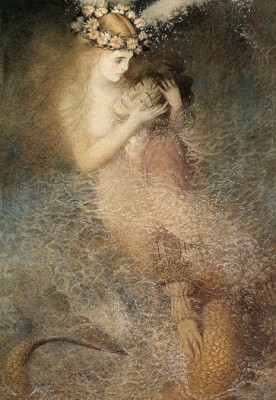 If you know me, you know I'm a nerd for mythology and folklore. I've wanted to take a shot at modernizing one of old, obscure folk tales for a long time, to find its heart and drag it into our world. Mimesis is that story. It's a horror novel set in high school, about two girls and the secret they're desperate to keep hidden: that they're in love. But as fear of discovery pulls them apart, something older and stronger than heartbreak or prejudice threatens them. Something more merciless even than their fellow students.
I'm excited about and proud of Mimesis, and I'm ready to share some of it with you. If you're interested in seeing more than this teasiest of teases, and you haven't subscribed to receive updates from me, now is the time. Next week, I'm going to send the first chapter of Mimesis exclusively to subscribers. All you need to do is use the form on the sidebar (or the one at the end of this post) to subscribe, and the first chapter will be yours.
I hope to finish the 2nd draft of Mimesis sometime next month. That draft will get sent to a handful of readers so I can be told what parts don't make sense, what parts are good, and what parts made them hate me. (The last one, of course, being the best of compliments.) Then there will be a third draft. Because revisions never sleep.
Thanks for riding with me. Novels are stressful little monsters, and your support and interest has kept me going. I promise I'm doing everything to make it worth your while. With a little help and a lot of work, I think Mimesis is going to be pretty damn cool.