Therapy is a lot like exercise. For the first few months, it feels like much pain for little gain. It's miserable, you don't get any better, and any time you don't spend crying is spent wanting to cry. Then, before you know it, things fall together and snap into place. You improve. Not in increments, but in a rush. You feel better. You feel more like you. You feel like you can smash the world with your fists.
Which is exactly when you find yourself stranded on an endless plateau.
After nearly a year of therapy, I felt good. Really good. I thought it might be time to scale back, to switch from Improvement to Maintenance. I'd hit a plateau, and (having nothing to compare it to) decided that was as better as I was going to get.
Which is exactly when I found myself writing an e-mail to a friend, pausing between paragraphs to cry, trying to make sense of the voice in my head that wouldn't stop telling me how much I sucked.
Oops.
So, instead of scaling back, I scaled up. I went from one session of therapy a week to two. When my therapist asked what it was that I wanted to work on, at least I had answer: How could I be so confident sometimes (at work, when programming), but struggle to find worth in myself the rest (with friends, in writing)? Why did I see so little in myself, but only in some parts of my life?
It's a good thing someone sent me a link to a post about something called Impostor Syndrome.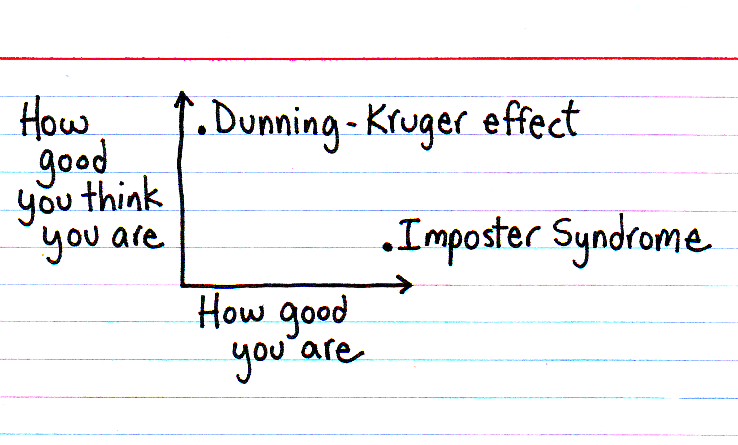 What is Impostor Syndrome? It's the feeling that you're a fraud, that you don't deserve to your accomplishments. It's fearing that, even when you succeed, you only did so due to luck or charm or and ability to game the system. Not your own talent. Never that. It's knowing that one day — one day very soon — your peers will realize that you've been faking it all this time and cast you out.
Only, you're not always an impostor. Not at everything. And I quote:
"[I]t is possible to have generally adequate self-esteem, but to have the negative feelings about the self in the area of achievement associated with the impostor phenomenon."
In other words, I can feel like a badass at work, but a fake as a writer. I'm not a fraud at work. I believe – hell, I know – I'm good at my job. When I succeed as a programmer, it's because I earned it.
When someone tells me they like something I wrote (after the blush of initial happiness fades) all I can think is how disappointed they're going to be when they read the next thing. After all, there's no way I can do that well again. I got lucky this time. Next time, I won't. It's one of the reasons I have so much trouble accepting compliments. Accepting them feels like a lie. A lie I'll be mocked for spreading when it's found out.
Things started to make sense. All those times someone had torn me down, made me feel like I wasn't a real writer, it crushed me. If someone had told me I wasn't a real programmer, I'd have smacked them in the face with the multi-million dollar sales-generating website for which I'm 100% responsible. Yet, when someone did so much as insinuate that I was a fraud as a writer, I took it to heart. When I saw what other writers had done — the age they were first published, the chances they took while I was fumbling about, the way others reacted to their work — it was enough to founder me. That wasn't me. They were the real deal. I was a fake.
After the publication of Broken Magic, an ugly undercurrent of dread crept in. I had a second novel nearing completion, and self-publication was a possibility. I should have been happy. I should have been excited. But…
How could I expect it to succeed? What sales Broken Magic generated were surely due to the excitement of it being my first go. With the second one, people would be bored, disinterested. Diminishing returns were here, and there wasn't any reason for people to care about another novel. Even if they liked Broken Magic, they probably wouldn't like this one. When they didn't, they'd realize I really wasn't very good at this, and that would be that.
Drummed out of the siblinghood of writers as the fraud I was.
The power of naming a thing never ceases to amaze. Before I understood what the feeling of inadequacy here but not there meant (and before I realized just how alone I wasn't), I felt powerless and adrift. A week or two of therapy after I'd named the problem for what it was, I felt stronger. When the fear that I don't belong slithers in, I have a chance at stopping it before it coils around a success and squeezes it to death. I have a long way to go, but just as when I got my diagnosis as a crazy person, I no longer feel like a victim.
Maybe some of you out there have felt the same way. Maybe, when someone's looked at you like you weren't a real writer/programmer/parent/friend/whatever, it hurt too much because that's exactly what you believed about yourself. Maybe, like me, you don't actually dislike who you are. Maybe you just don't know how to believe in your own successes.
If so, today is the day to fight back. When someone compliments you, accept it. Own it. You earned it. You earned your successes. You deserve them.
My name is Eric Sipple, and I am not a fraud.