I lost a friend this weekend. Laura Wilkinson, who I've known since the long-ago days of Jr. High, who was born only a day before I came into this world, is gone.
Like many childhood friends, we saw too little of each other in adulthood. Staying in touch after your lives have changed and diverged can be difficult, and I'm worse than most in that regard. If not for the miracle of technology, we might have lost touch entirely. I am so glad that didn't happen.
The weight of a friendship isn't measured only in the number of words exchanged, though. It is a connection that survives distance and time, that can seem invisible in our daily lives while remaining a vital, essential part of who we are. By that measure, Laura was as true a friend as I've had.
I've known Laura since 7th grade. Our relationship did what many do in adolescence: it waxed, and it waned. It sometimes seemed to vanish entirely before a sudden sharing of homeroom period revived it. There were people I spent more time with than Laura, friendships that were more active, more more a part of my daily life. But as I said: friendships are more than the sum of days spent. What matters is that my friendship with Laura lasted. It endured. And it affected me deeply.
When senior year came, and the two of us, both single, wanted to go to prom without being tied to a capital-D Date, we found a safe choice in each other. We dressed up, posed together for pictures, ate dinner, then went our mostly separate ways for the rest of the party. It's not how we're told a great prom is supposed to go, but a great prom it was.
If you've read my first novel, Laura might sound familiar. Broken Magic's queen of the theater shares her name and appearance — though not her personality; writing from real life inspiration is a mixed up and strange thing. And though that character is the most obvious mark Laura left, it's far from the most important.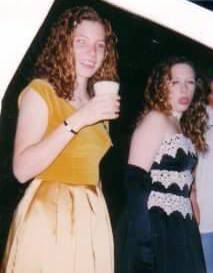 Before we parted ways on prom night, we congregated with the other non-conformist types who'd holed up the hotel's large, open cube of pay phones. There, I met one of Laura's friends. Someone who'd later adopt me into her own clan: the theater kids. Without Laura's friendship, without her trust — and what is friendship, really, but trust? — that we could safely go to prom together while still having our own experiences, an important part of my life would not have happened.
Quite simply, without that friendship, there is no Broken Magic, because the person who wrote that novel would have never come to be.
I am who I am because of my friendship with Laura Wilkinson.
Though we grew in different directions, though Laura and I hadn't crossed paths in far too long, Laura was a dear and important friend. I cannot express how much I'll miss her, how much it hurts to no longer know she's there. To have lost the hope that fate would, once again, allow us time together. Even briefly.
When we lose someone, we say they'll be remembered. But there is something deeper than memory that Laura leaves behind. The person she was, and the life she led, bettered those of us who knew her.
Laura, you will be missed, and you will be remembered. But more importantly, your soul lives on through the lives you touched. May we all find a way to be worthy of that honor.
Farewell, dear friend.
To those who knew Laura or would simply like to help, her family is accepting donations to cover the cost of her funeral.