Though I remain trapped in the salt word mines*, hacking away at the back half of my next novel (yes, I said back half, meaning over half is done, meaning yay), I try to get out every once and a while. One thing guaranteed to pull me out of my cave is a night of listening to Neil Gaiman…well, doing just about anything.
Thanks to hard work by the fine folks at Pittsburgh Arts & Lectures, Neil Gaiman came to Pittsburgh to celebrate the 15th anniversary of his novel Stardust, and to talk about how he came to write it, to read from the book, and to tell us a bit about his upcoming novel, The Ocean at the End of the Lane. It wasn't part of a book tour. He just flew into Pittsburgh and had a night with us. No big. Just a couple thousand people in a music hall, listening to him speak. That's all.
If you've never heard of Neil Gaiman, he's a tremendously talented fantasy author. One of the best you'll find. He wrote my favorite comics series of all time, Sandman, as well as a pile of novels, including Stardust, Neverwhere and American Gods. If you watch Doctor Who, he wrote a fantastic episode called "The Doctor's Wife". He's one of my favorite writers, and until last night, I'd never seen him speak in person.
Ready for the really good part? Erin and I had tickets to the post-reading reception and got to saunter up to Neil Gaiman himself (sauntering is where you're shaking visibly and trying not to vomit, right?), say hello, and get some books signed. So, yeah, I got to stand a few feet from one of my heroes, say hello, tell him what an inspiration he's been to me, and give him a gift. What gift? Well, this: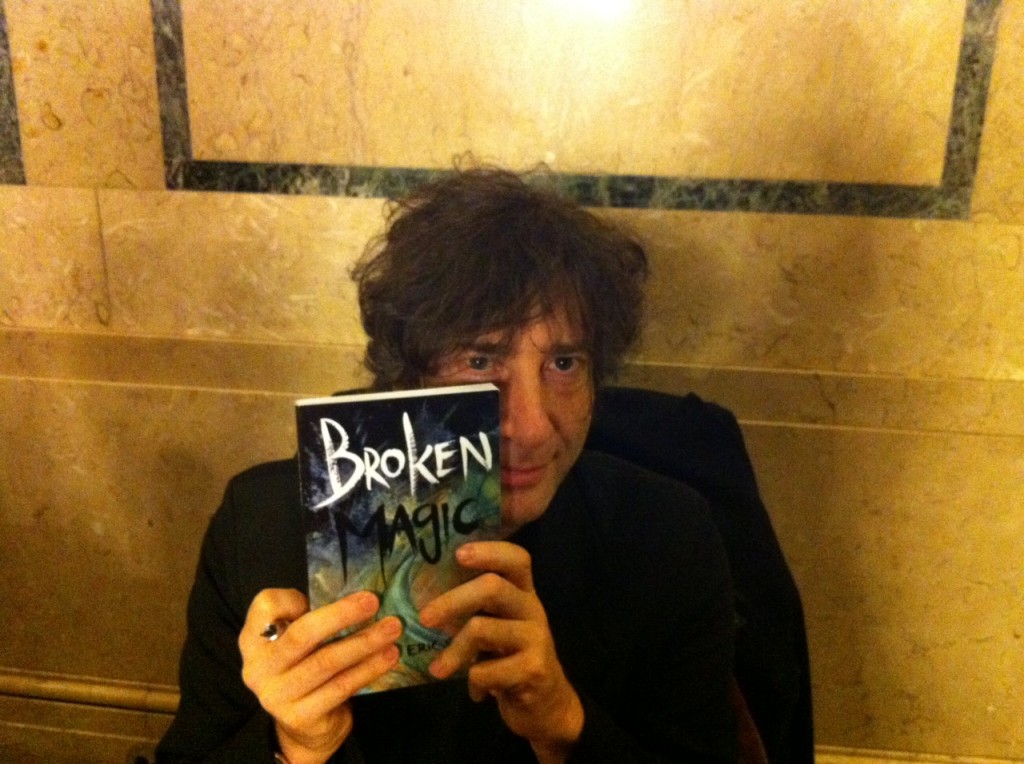 Thank you to THE ENTIRE INTERNET for bludgeoning me into thanking Mr. Gaiman properly and giving him proof that his words mattered – really mattered – and that they helped me find my own words. If nothing else, it was worth it to hear him say, with a smile, "Oh, a brother writer!" I'm glad Erin was behind me in line, getting a couple of gifts signed. She had the smarts to snap a picture after I rushed off. I was busy mumbling thank you after thank you, embarrassed because he'd just flipped the book over and commented on the name of the main character; a coincidence that occurred to me only a few hours earlier.
If he ever comes to your town, do everything you can to see him. Neil Gaiman is funny and kind and authentic, and he's a lovely person to hear reading. The only other reading I enjoyed as much was listening to Kurt Vonnegut speak in a New York City Barnes & Noble. If you know how much I love Vonnegut (hint: it's unwholesome), that tells you how much I enjoyed last night.
Back to the mines.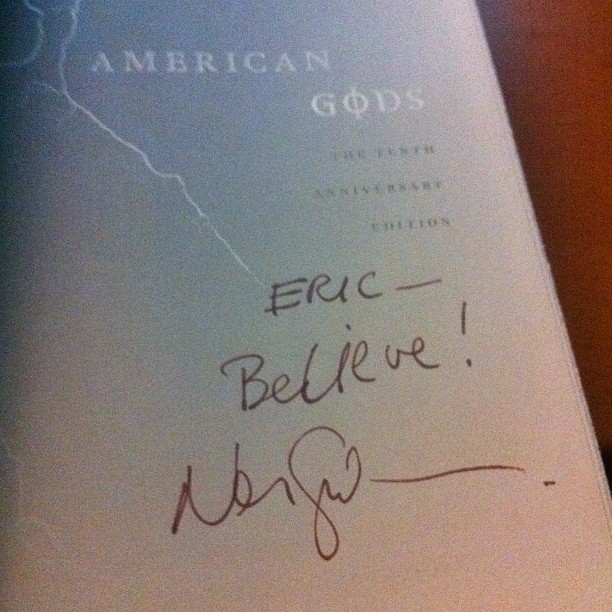 * Word mine joke shamelessly stolen from someone I hate.