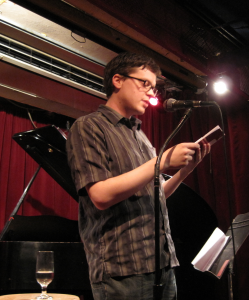 Eric Sipple is a writer. He does other stuff too, like directing films and making websites. His first novel, Broken Magic, is available on Kindle and in print. His short story, "She Says Goodbye Tomorrow", was published in Hot Mess: speculative fiction about climate change.
That's what Eric is. Who is he? He's a loud-mouthed, shy, antisocial, people-loving nerd. Yes, it's possible to be all those things at once. Yes, it's a lot of work. It's also more fun than it sounds. He's been online for most of his life, since modem speed was measured in bauds and before the World Wide Web was all the rage. He met his wife Erin through one of those modems, in a SciFi Channel IRC chat room. Don't know what IRC is? He'll tell you about that too, whether you want him to or not. The same goes for wine, travel, books, movies, music, beer, food, anime, role playing games, and programming languages. Anything, really. He just likes to talk.
Eric writes about all kinds of things on Saalon Muyo, from writing and rejection, to dealing with mental illness, to his adventures in self–publishing.
Evidence of his existence is scattered across the net. Find some of it here: